Screwdriver Workarms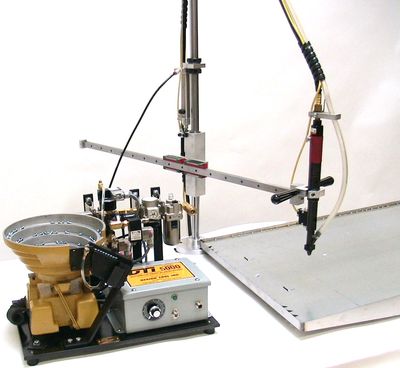 Workarms, or torque arms, can be used to reduce operator fatigue, arrest the torque reaction of the driver, and maintain vertical driver alignment to insure that the fastener is driven straight. Workams are equipped with tool balancers to help support the weight of the screwdriver assembly.
Design Tool, Inc. offer multiple different types and styles of workarms to meet varying customer requirements. The basic types offered are linear workarms and boom type workarms. Choosing the correct type of workarm is dependent upon the application requirements as well as system design.
The DTI 400 Linear workarm features positive torque arrest to prevent operator fatigue. This style is available in 24 and 36 inch reach configurations and offers both single and dual tool balancers to accommodate a variety of screwdriver assembly sizes and weights. The linear workarms feature twin horizontal rod and bearing assemblies to maintain vertical driver alignment and pivots around a single vertical rod and bearing assembly. The vertical rod and bearing assembly has a height of 36" and is mounted to the customer's work station or table. The vertical bearing assembly can pivot, or rotate, 360 degrees, though most stations only call of 180 degrees of rotation or less.
Boom type workarms simply provide the customer with a means to hang a tool balancer by mounting it to their work bench or station. This type of workarm features a vertical post with a height of 5 feet and horizontal boom of 3 feet. It features a trolley clip system that allows the customer to hang the tool balancer and screwdriver to alleviate screwdriver assembly weight. The trolley clips can traverse in and out on the horizontal boom portion to allow the screwdriver and balancer assembly to stay above the fastener driving location. The boom type workarm is available as a fixed-type boom, which stays in the same position all the time, or in a swing-type boom which can swivel or rotate 180 degrees to cover a larger work envelope.
Please see images below that feature these types of workarms offered by DTI and as always, please feel free to reach out with any questions at (800) 627-3674 or sales@designtoolinc.com.
Additional Images