Door Hinge Machine with Multiple Bowls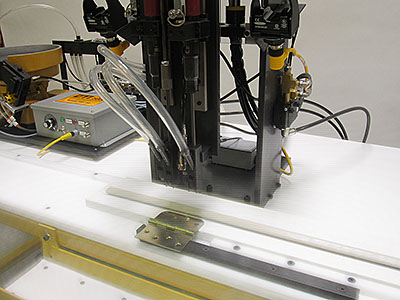 For decades, DTI has provided leading door manufacturers around the world with our patented multi-feed automatic screwdriver hinge machines to attach door hinges to their doorframes. A customer approached DTI for a solution to help with screw color changes for doors of a different style or color. They wanted the operators to be able to run multiple colors at the same station without having any added process.
DTI's team came together and formulated a proposal to pair their multiple-spindle hinge machine with the multiple-bowl dispenser system, effectively, to provide an all-in-one system. This machine was designed with two screw feeder bowls, both feeding to the same set of fixtured screwdrivers automatically. The design included a selector switch for the operator to choose the correct color of screw. Once the switch was set, the machine would be activated and the correct screws were automatically fed to the screwdrivers and inserted into the assembly. The operator could then simply cycle the system again to continue to use the same color screws, or turn the switch to another color, activate the machine, and automatically feed and drive the corresponding screw color as required.
The system utilized many patented components that are used on various different DTI models of systems such as the multi-feed mechanism, the automatic screw diverter, the multi-spindle screwdriver assembly and other. The DTI team has since built many of these systems for various door manufacturers worldwide. Each and every customer has been highly satisfied with these breakthrough machines and continue to implement them into their ever-growing production facilities. With the installation of this system, customers see increased productivity, improved ergonomics and quality assurance in their assembled parts.
Please call 1-800-627-3674 or browse our website for all of your automated fastening needs. Design Tool, Inc. is sure to be able to create a custom-tailored solution for your very own success story in automation.