Automotive Multi-fastener Dispenser System Increases Productivity and Accuracy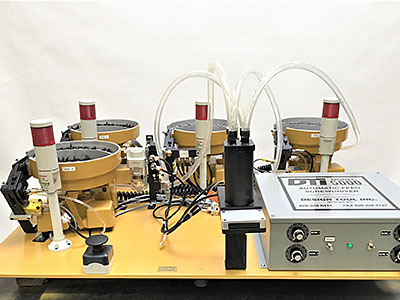 A major automotive manufacturer contacted Design Tool, Inc. seeking a solution to improve productivity and accuracy in counting and supplying four different types of fasteners simultaneously for an assembly kit supplied with various vehicles. The kit required a specific quantity for each type of fastener, and the fasteners were then placed into a plastic bag to create the kit.
The DTI dispenser was equipped with four (4) automatic feed systems, one for each specific fastener. Each automatic feed system included a vibratory bowl and our patented single exit feed mechanism featuring one moving part for reliability. The automatic feed systems also included sensors to accurately count the fasteners. The fasteners from all feed mechanisms were fed to a single collection bin assembly.
The collection bin assembly featured an exit designed to interface with the plastic bag to eliminate the possibility of fasteners missing the bag opening when they were dispensed. Once the plastic bag was in place, the operator simply actuated a palm button to dispense the fasteners into the bag. Once the dispensing cycle was completed, each bowl and feed mechanism simultaneously reloaded the collection bin assembly with the correct number of fasteners for the next dispensing cycle.
When the dispensing system was placed into production, operators were no longer required to manually pickup and count the correct number of each type of fastener. Incorrect count issues were eliminated, and the production rate for the assembly kits was increased. The customer was very satisfied with the results of this project.
Please call 1-800-627-3674 or browse our website for all of your automated fastening needs. Design Tool, Inc. is sure to be able to create a custom-tailored solution for your very own success story in automation.